COMPANY PROFILE
company name: Dongguan Dabeini Electronics Co., Ltd. Dongguan Dayonglai New Material Technology Co., Ltd.
Established year: 2010
Company Address: Qiaotou Town, Dongguan City, Guangdong, Hong Kong and Macao Core Area
The company's total assets: 20 million yuan Annual sales: 30 million yuan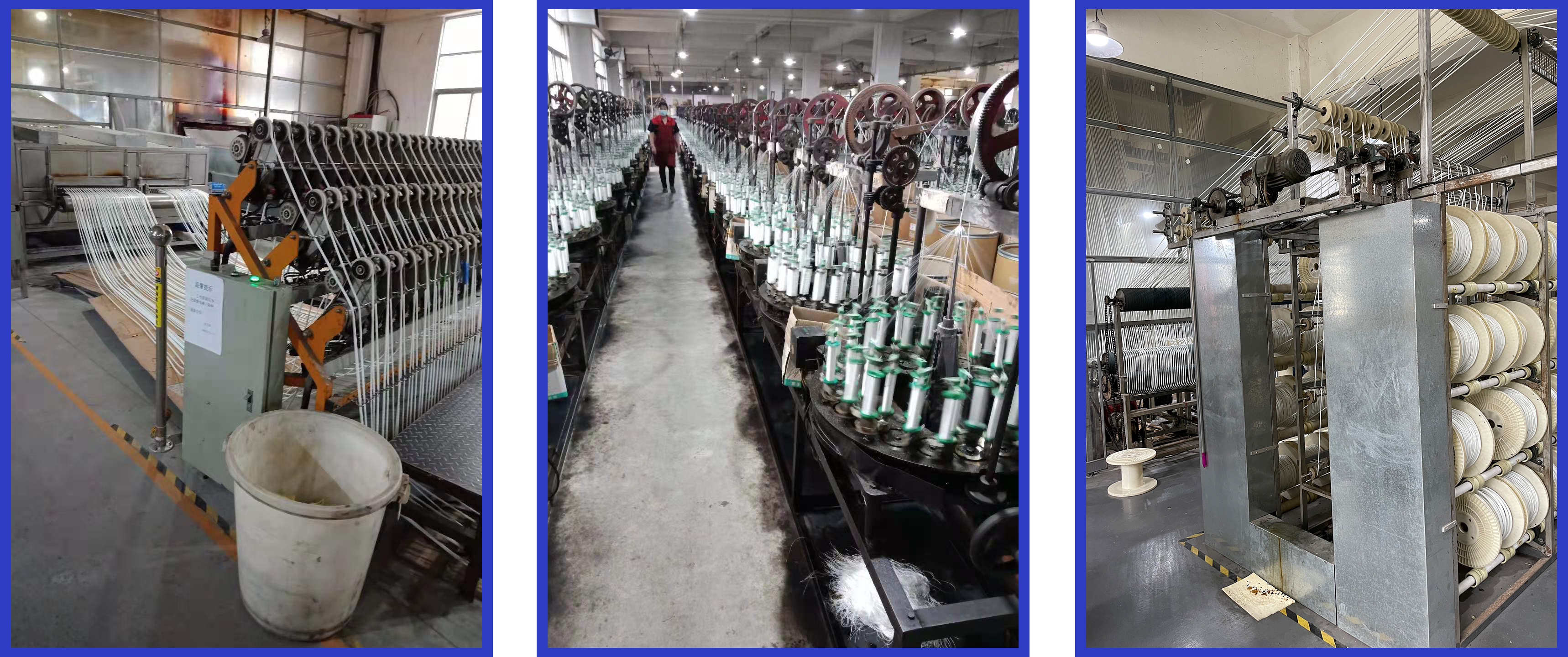 Company area: 12000 square meters Company number: 106 people
Passed certification: ISO9001 certification, IATF16949 certification, UL certification, SGS certification
Main business: research and development, production and sales of insulating materials and new materials
Products: Silicone resin and silicone rubber fiberglass casing, inner fiber outer rubber and inner rubber outer fiber casing, Teflon casing, PVC casing, silicone and silicone heat shrinkable insulation materials
Production equipment: high-speed full-automatic braiding machine, full-automatic spinning machine, full-automatic coating machine, cutting machine and other full-automatic equipment
Application areas: aerospace, new energy vehicles, 5G equipment, sensor materials, smart home, household appliances, lighting, electrical appliances, medical equipment and other industries
Company business philosophy
The company insists on driving market sales with product research and development, and driving enterprise development with market sales, adhering to the four-in-one business philosophy of "integrity, quality, efficiency, and innovation", with high-quality products, reasonable prices, and perfect after-sales services. On the principle of mutual benefit, we will continue to serve customers at home and abroad.
Our company adheres to the concept of continuous innovation and advancement with the times, combined with the development of the 5G era, and the development and manufacturing of supporting smart equipment related products. A core R&D team with more than 20 years of experience has established a quality inspection room and an engineering research and development room. With related quality testing equipment, our company has a number of invention patents.
Company history
In 2010, the company established Dongguan Dabeini Electronics Co., Ltd.
Main production: conventional products used in electronic appliances

Capacity doubled in 2014
Through our quality control and service concepts, the company's output value has achieved a qualitative leap. The annual output value has reached 24 million yuan.

In 2017, the second factory was put into production. The full name is Dongguan Dayonglai New Material Technology Co., Ltd.
Through 6 years of unremitting efforts, we have been highly recognized by the market
Product upgrades: electronic appliances, special motors, sensors and other products
Annual output value: 50 million yuan

Established the third factory in 2019
The company passed IATF16949 certification
In order to comply with market demand, the company once again expanded its production capacity, and the third factory is currently operating normally